St Teresa's Special School
Creagh Road, Ballinasloe, Co. Galway.
Welcome to St Teresa's Special School Website
Welcome
St Teresa's is a Special School in Ballinasloe, under the patronage of Ability West.  Our aim is to nurture and advance our pupils in a caring environment.  More details about our school are here. We have added some testimonials from parents here. The school calendar for this year has been updated and is here. 
If ever there is anything you want to discuss about your child please do not hesitate to contact our Principal Anita at any time. This school's door is always open and Anita and the staff would love to hear from you.
St Teresa's is now enrolling pupils for the year - Please click here for the Application for enrollment. The Admission and Enrollment policy is available by clicking here. and the Admission Notice is here. To arrange a school visit please contact the principal by clicking here.
COVID 19
Please be aware of staff shortages due to Covid and the problems they may cause from time to time. We always update parents as soon as we become aware of any potential problems and may have to either fully or partially close classes depending on the nature of the difficulties.

We have added a new document called "Public Health Measures (Updated 6th January 2022)" to the School's policies. Please click here to see it,  Follow the links in it for more up to date information.

Remember these rules change regularly so go to the Government's websites for the very latest information.
Accessibility Ballinasloe
We wish to say thank you to Accessibility Ballinasloe visited the school in May and presented us with an outdoor communication board for our playground.
It will be very useful in the future.
New School
We are delighted to announce that our new site has been approved by the Department of Education. We are meeting the design team in June to discuss plans! We have been sanctioned for a new school on a 4 acre site close to where the school is located at present. We wish to express our thanks to the local community who have always supported us and to the politicians, TDs and Senators who have championed our cause. Most of all, thanks to the parents and staff who always have and always will continue to support and advocate for the school and the children in our care. We encourage everyone to continue to contact their public representatives to help us get this new -much needed- school built now that this long phase is nearly over
Walk for Simon
We held a "Walk for Simon" on 19th January. 
We raised €300.00 which was donated to the Simon Community in Ballinasloe. It will be used locally.
Thank you to all the families and staff that supported this event.
Mini Waste Project 2021
The children participated in this project and our certificate is here.
Creative Clusters
We are delighted that we have been included in the Creative Clusters Initiative.
Creative Clusters is a pilot initiative of the Department of Education, led by and in partnership with the 21 full-time Teacher Education Centres and funded through the Schools Excellence Fund – Creative Clusters Initiative. Creative Clusters is an initiative of Creative Youth – A Plan to Enable the Creative Potential of Every Child and Young Person, which was published in December 2017 as part of the Creative Ireland Programme. The Plan aims to give every child practical access to tuition, experience and participation in art, music, drama and coding by 2022.
As part of a Creative Cluster we will be working with two other schools collaborating on the design, implementation, evaluation and dissemination of an innovative arts and creative learning projects.
We hope to have many visiting artists including actors, story tellers, artists and musicians to help us implement the project. We would like to thank the Department of Education and Galway Education Centre for including us and guiding us with this project .
Maths Week October 2021
The children were involved in lots of activities for Maths Week including Halloween Maths, Cookery, Playdough Maths and looking for shapes in our environment.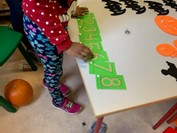 Toys
We would like to express out thanks for the generous anonymous donation of toys and resources to the children. These resources were carefully chosen and really suit the needs of the children who will get great enjoyment and benefit from playing and working with these resources. What a surprise!
Further Assistance for Parents
We have added a new Home Activities Section to our website to help parents. We have also added a Family Entitlements section. The latter is more general in nature. Please click on these links above for assistance.

We cannot guarantee that these resources will continue to be available at all times or that information is accurate and up to date. Still we hope it helps.

For further information about the Pandemic and what to do go here or here.
Children's work for Saint Valentines day
We also have some displays for St. Valentines day. You can see them here.
Children's work for Winter
We also have some displays for Winter. You can see them here.
Helicopter visit

We were very lucky in St. Teresa's to have an Air Core rescue helicopter visit the grounds.  Even though there was bad weather, all the children had a chance to go to visit the helicopter and to go inside it. The Crew showed the children the controls and were very happy to answer their questions. We didn't get to fly in it but the sky is now the limit.
It was a truly memorable day.
Garda Visit for Driving Test

One pupil had a special visit from the Garda Traffic Unit
They assessed his driving skills and made him drive through several obstacles.
In the end, they deemed him to be a very competent driver of his power wheelchair and award him a certificate
National Ambulance Crew Visit

The National Ambulance Crew who have a training centre in the same building as us visited the children.
They showed them what the emergency services do.  The children enjoyed pretending to be patients and having a short spin in the ambulance around the school grounds.
Local Schools
We would also like to express our thanks to An Gaelscoil, Ard Scoil Mhuire and Garbally College who work with us on student exchange and in school programmes. The interaction between the schools is very beneficial for our pupils.
Local Businesses and Community Groups
We wish to thank Ballinasloe Credit Union and all the Ballinasloe Businesses and Community Groups who constantly and generously support our school.
Please contact us by clicking here for any further information you may require.
---
Copyright © St. Teresa's Special School 2013- | Contact: +353 (0)90 9643934 | info@stteresas.ie | Roll Number: 20328W
Ballinasloe Enterprise Centre, Creagh Road, Ballinasloe Co. Galway, H53 NW54. | Loc8 Code: L6F-33-2VK.